Return to Work Services & Benefits
Prompt management and communication of injury and injured worker through service coordination, providing all parties involved with the information needed to accelerate the return-to-work process.
Assist in eliminating workers compensation fraud and abuse.
Lower workers compensation premiums and injury costs.
Decrease lost work time and wages.
For information regarding worker's compensation, please contact Candace Vaughn at 276.236.1645 or email Candace.Vaughn@LPNT.net.
Taking Advantage of the WorkPoint Wellness Program
Enrolling in the WorkPoint Wellness program entitles you to certain benefits and is complimentary to all employers courtesy of Twin County Regional Healthcare.
Employers are not obligated to utilize all benefits provided and can simply apply parts of the program that fit their needs.
A brief enrollment and implementation process is required to ensure the healthcare providers are informed and aware of the employers' requirements and protocols for handling specific healthcare needs.
WorkPoint Wellness of Twin County Regional Healthcare works with employers to provide easy access to healthcare information and services.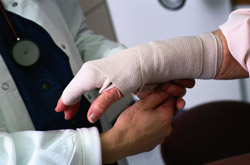 The Four Primary Components of Our WorkPoint Wellness Program
Injury Prevention Services: This includes providing onsite safety talks and health events to scheduling physicals, drug screens and pre-placement functional capacity examinations.
Injury Intervention Services: Offers a cost-effective and efficient group of health care providers to help employers establish return-to-work strategies and minimize treatment time and lost work days.
Service Coordination: Monday - Friday centralized communication hub to assist employers and employees with scheduling and tracking injury cases. Service Coordination can be reached at 276.236.1645.
Wellness Promotion: Helps employers educate their workforce through a variety of onsite services such as health events, health risk assessments, disease education prevention and wellness screenings.
Twin County WorkPoint Wellness is paid for by Twin County Regional Healthcare to help employers, employees and our community. There is no cost associated with enrolling. The program's Industry Lead acts a liaison between you and Twin County Regional Healthcare and affiliated providers.
To schedule an onsite employee health consultation session or to take advantage of these free services and enroll your company, contact:

Candace Vaughn, WorkPoint Wellness Coordinator
276.236.1645 - WorkPoint Wellness Service Coordination
276.236.2307 - Fax for WorkPoint Wellness Service Coordination
Email: Candace.Vaughn@LPNT.net