Magnetic Resonance Imaging (MRI)
Location
We are located on the first floor between the Emergency Department and Lab. Drive around past the ED entrance and turn Right into the Diagnostic Imaging parking lot. There is an Outpatient Diagnostic Imaging entrance that will bring you directly into the Registration area.
Hours of Operation
The MRI department is open Monday through Friday from 7:15am to 4:30pm.
Procedure Information
A physician's order is REQUIRED for your scan to be performed.
Unlike regular Radiography or CT Scans, MRI uses a giant magnet to produce images of the body. Most scans take between 20 minutes to an hour to complete. During this scanning time, you must remain completely still as movement will degrade the image quality.
MRI scans are divided into several different acquisitions. Each acquisition is important because it is used to look at a specific area of the body part being scanned. Movement of any time during the acquisition results in a repeat the entire acquisition. Each acquisition typically takes between 3-5 minutes.
MRI scans are noisy. Ear plugs are available to help reduce the noise.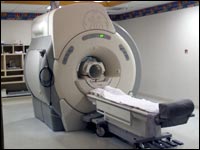 Common MRI procedures performed at TCRH:
Brain
Spine (Cervical, Thoracic and Lumbar)
Extremities
Renal or Carotid Arteries
Pelvis/Hip
Important Information
If you are claustrophobic (fear of tight, small spaces) please let your physician know at the time of scheduling. You will be asked to arrive an hour prior to your test to be given a mild medication to help you relax. You MUST bring someone with you to drive you home. If no one is with you, you will not be given the medication. It generally takes around a half hour for the medication to take effect. You will not be able to drive or return to work after receiving the medication. At Twin County Regional Hospital, we DO NOT sedate patients for MRI scans.
There are several metallic devices that are not allowed inside the magnet. Pacemakers, certain stints or surgical implants are some of the things not allowed in the magnet. Please inform the technologist of any metal, surgical implants or devices, or recent surgeries. You will be asked to fill out a screening form prior to your MRI.
Sometimes IV contrast is needed to enhance tissues or blood vessels to provide more information on your MRI scan. If this is needed, the technologist will inject the contrast into your veins. Please tell the technologist if you are allergic to any medications or if you have had any renal problems prior to the injection. The incidence of allergic reaction to the MRI contrast is very low.
If you have had any regular X-rays taken on the body part being scanned, please pick them up and bring them with you. If you haven't had X-rays then we will take some after the MRI for the Radiologist to compare to your MRI scan.
Insurance Information
Some insurance companies require that certain MRI scans be preauthorized. This preauthorization is done by your physician's office at the time of scheduling. A preauthorization number must be presented in order for this procedure to be done.
If you have any questions about preauthorization or if you are unsure if the procedure you are scheduled for needs to be preauthorized, please contact your insurance carrier. If your insurance requires preauthorization and it was not given, you may be asked to sign an ABN stating that you are aware that your insurance will not pay and that you will be billed for the entire amount of the procedure.
For example if you are scheduled for a CT of the Abdomen and Pelvis, two preauthorizations must be obtained, one for the Abdomen and one for the Pelvis since they are two separate body parts.
For additional information, please feel free to contact Diagnostic Imaging at 276.236.1680.
Diagnostic Imaging/Radiology Services at TCRH