Accreditation
Twin County Regional Hospital is accredited by the Joint Commission on Healthcare Organizations. In an intensive on site survey we've been put under the magnifying glass and have been judged to measure up to the highest standards of care.
Beds
Hospital beds are electrically operated, and your nurse will show you how to work your bed properly. Bedside rails are for your protection. They may be raised at night or during the day if you're resting, recovering from surgery or taking certain medications.
Calling Your Nurse
A button to call your nurse is located at your bedside. When you press the button, the nursing station is alerted that you need assistance. A staff member will respond on the intercom. You may then inform the staff member of your need, and they will respond as soon as possible.
Communication Boards
Each patient room is equipped with a white communication board and erasable marker. During each shift, your nurse will write his/her name on the board for you. You and your family are welcome to use the board to relay messages and record important information about your care.
Patient & Visitor Guide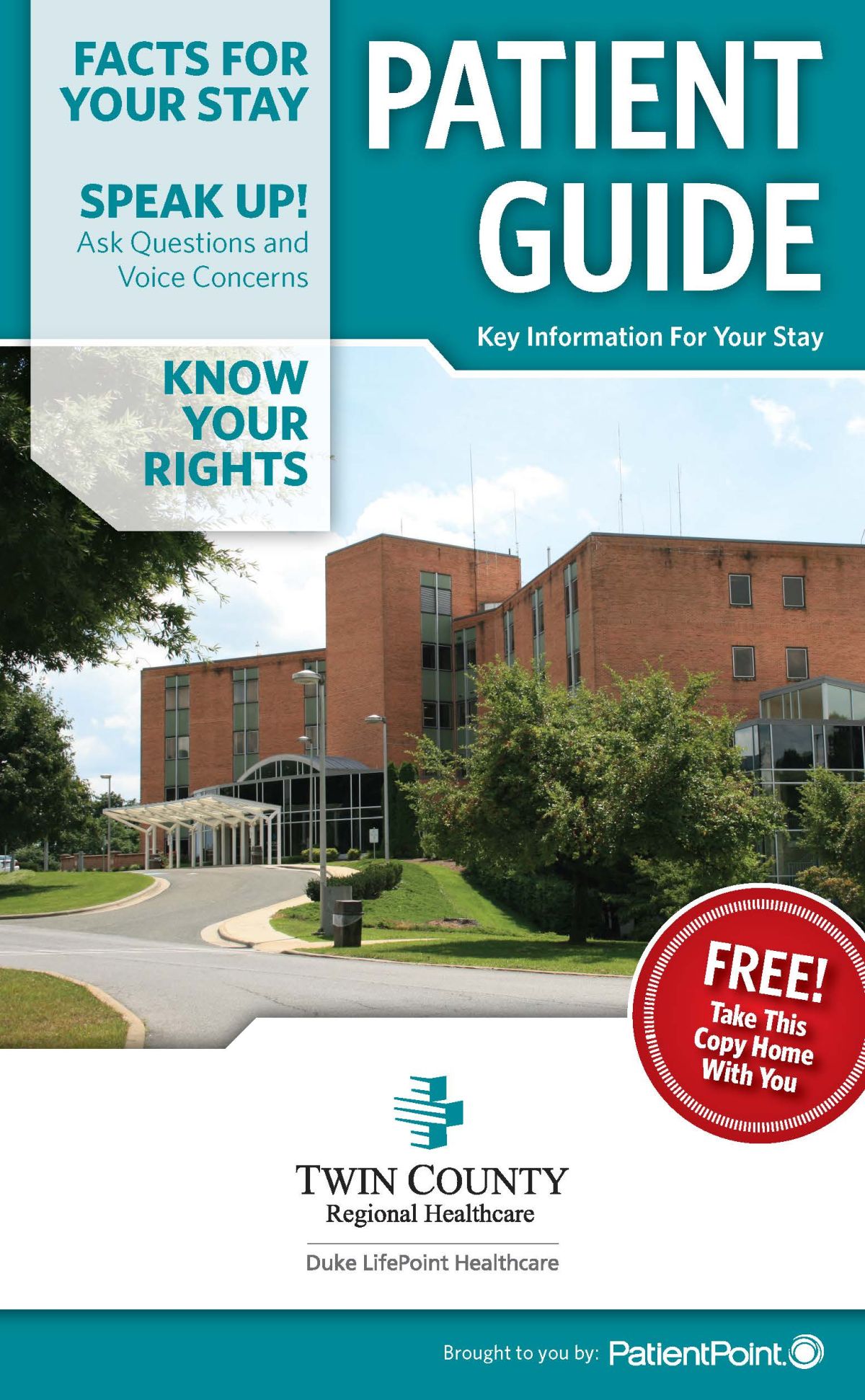 Customer Service
Twin County Regional Hospital makes every effort to ensure that your hospital stay is as comfortable as possible. Because your comfort and recovery are important to us, a patient representative is available to help you with any problems, concerns or special needs you may have.
The Patient Representative/Customer Services Department provides a channel through which all patients and their families can gain answers to questions, seek solutions to problems and obtain responses to unmet needs. After you leave the hospital, you may receive a phone call from our survey company asking you questions about your hospital stay. Your comments are important to us. Through your input, we can constantly improve the quality of our service and make your stay the best it can be.
Electrical Appliances
Electrical appliances such as radios, TV's, video games, DVD players, VCR's, electric razors, computers, cell phones, etc. are not allowed in patient rooms. These can interfere with telemetry equipment and put patient safety at risk.
Emergency Room
Due to patient privacy issues and space constraints, we ask that there be no visitation in the emergency room. One family member is allowed to accompany a patient into the emergency department when desired or necessary. Other family members and friends are welcome to use the reception area adjacent to the Emergency Department.
Food Services – Personal Choice Dining
In order to serve our patients more efficiently at TCRH, we have developed an innovative meal preparation and delivery system which we call Personal Choice Dining. This program gives you greater control over your meal selections. The basic premise behind the Personal Choice Dining program is that you, the patient, will be visited by a Host/Hostess who will tell you about your menu options and take your meal order.
Your physician will prescribe a specific diet to meet your particular needs. A Host/Hostess will visit you and help you make selections which are in compliance with your prescribed diet. At meal time, the Host/Hostess will assemble your tray according to your selections and will deliver it to you.
Meal service times are:
Breakfast: 7:00am to 10:45am
Lunch 11:45am to 3:30pm
Dinner: 4:00pm to 7:00pm
If a family member or friend wishes to eat in the room with a patient, a guest tray may be ordered at a cost of $3.50. Additional trays may be ordered through the cashier's office located adjacent to the Outpatient Lobby.
A pediatric menu is provided for all children. A complimentary meal is also provided for a parent accompanying a hospitalized child. Fathers of newborns are also served a complimentary meal tray. Arrangements for the tray can be made through the nurses' station.
Gifts for Patients
Visitors should check with the nurse before bringing gifts of food or drink to patients. Certain gifts, including food, fresh flowers and live plants are prohibited in the Intensive Care Unit. Please check with the nurse to make sure your gift is appropriate.
Hospitalist
Your physician may choose to place you under the care of TCRH's hospitalist program. A hospitalist is a physician who provides your medical care while you are a patient in the hospital. The hospitalist consults with your family doctor about your care and works only within the hospital. When you are discharged, you will return to your family doctor for follow up and your routine care.
Medical Staff
The physician who admits you is responsible for directing your care while you are in the hospital. Should you have questions about your illness, please consult your physician.
Medications
All medications you take while in the hospital are prescribed by your doctor, dispensed by the hospital pharmacy and administered by a nurse. Please bring a listing of medications you use at home for your physician's reference. Patients are not permitted to administer their own drugs or keep personal medications at their bedside unless ordered by their doctor.
Nursing Staff
Our team of professional registered nurses, licensed practical nurses and nurse assistants provide 24 hour care. A nursing supervisor is responsible for directing and coordinating nursing care on each unit. Please feel free to contact your nurse or the nursing supervisor if you have questions or concerns.
Parking
Parking in the circle drive in front of the hospital is for patient loading and unloading only. These zones have a 15 minutes limit. Do not park in these areas until you are sure the patient you are transporting is ready to go.
Pastoral Services
The Volunteer Chaplain Program is staffed by volunteer area ministers. These ministers represent a variety of denominations. If you are in need of pastoral services, ask your nurse or dial "0" and ask the operator for the chaplain on call. If there is a specific pastor or denomination you prefer, the chaplain on call can help you.
Patient Self Determination Act
A handbook entitled "Your Right to Decide" is given to each patient at admission. Please take a few minutes to read this important information. For more information on Patient Self Determination Act or living wills, contact Care Coordination at ext. 3544.
Room Temperature
All rooms in the hospital are centrally heated and air conditioned. You may regulate the temperature by adjusting the fan speed of the equipment in your room so the temperature is comfortable for you. Please notify the nurses if you have a problem.
Rooms
Your hospital room is equipped with a telephone, central heat/ air conditioning, color television, oxygen, bathroom and other support items. When possible, patients will be given their preference of a private or semiprivate room. Private rooms may require an additional fee due to certain insurance policy requirements.
Security
Security personnel are on duty around the clock. Dial the operator (0) and ask for security if you need assistance.
Smoking/Tobacco/Fragrance Free Campuses
For your health and the health of our patients, Twin County Regional Healthcare and affiliates are Tobacco-Free and Fragrance-Free Campuses. Visitors are asked to comply.
Social Workers
Social Workers are trained to help patients and family members deal with financial, social and emotional problems that relate to illness or hospitalization. Members of the department work with patients and families in planning for discharge and help prepare for long term illnesses or rehabilitation.
TDD Line
A TDD Line is available for persons who are hearing impaired. Notify your nurse if you need a TDD Line.
Telephones
Telephones are in all patient rooms. If you have problems reaching your phone, please inform your nurse.
Television
Color televisions are provided in every room at no cost. Please be considerate of other patients by playing your TV set softly and by turning it off at bedtime.
Vending Machines
Vending machines offering a variety of snacks and beverages are located throughout the hospital.
Visiting in the Hospital
Family and friends are important to us all, especially when accidents or illnesses strike. At Twin County Regional Hospital, we understand the value of those relationships and the desire to be close when we feel needed. In the best interest of our patients and visitors, please be aware of and adhere to the following guidelines:
Do not visit patients in the hospital if you have a cold, sore throat or any contagious disease. Doing so puts hospital patients at risk for additional infections, which can lead to complications.
Parents are encouraged NOT to bring children to the hospital.
Visits should be kept short.
Visitors in semi private rooms should be considerate of both patients.
Visitors must wear shirts and shoes and must dress appropriately.
Visitors may be asked to leave the room during tests or when the doctor or nurse needs to see the patient.
Cellular phones and two way radios should be turned OFF except in lobby areas. These items can cause interference with certain patient care equipment.
Visiting hours are to be followed.