Coronavirus (COVID-19) Preparedness Information
Twin County Regional Healthcare is committed to protecting the health and safety of everyone who walks through our doors. You may have questions as we resume non-emergent procedures and outpatient elective procedures. Click Here for Frequently Asked Questions.
Visitation & Screening Guidelines
At TCRH, our top priority is safeguarding the health and wellbeing of our patients, providers, employees, and community. We continue to closely monitor the prevalence of coronavirus (COVID-19) in our community while following all state and federal guidance to safely care for our patients.
Updated Visitor Guidelines effective March 7, 2022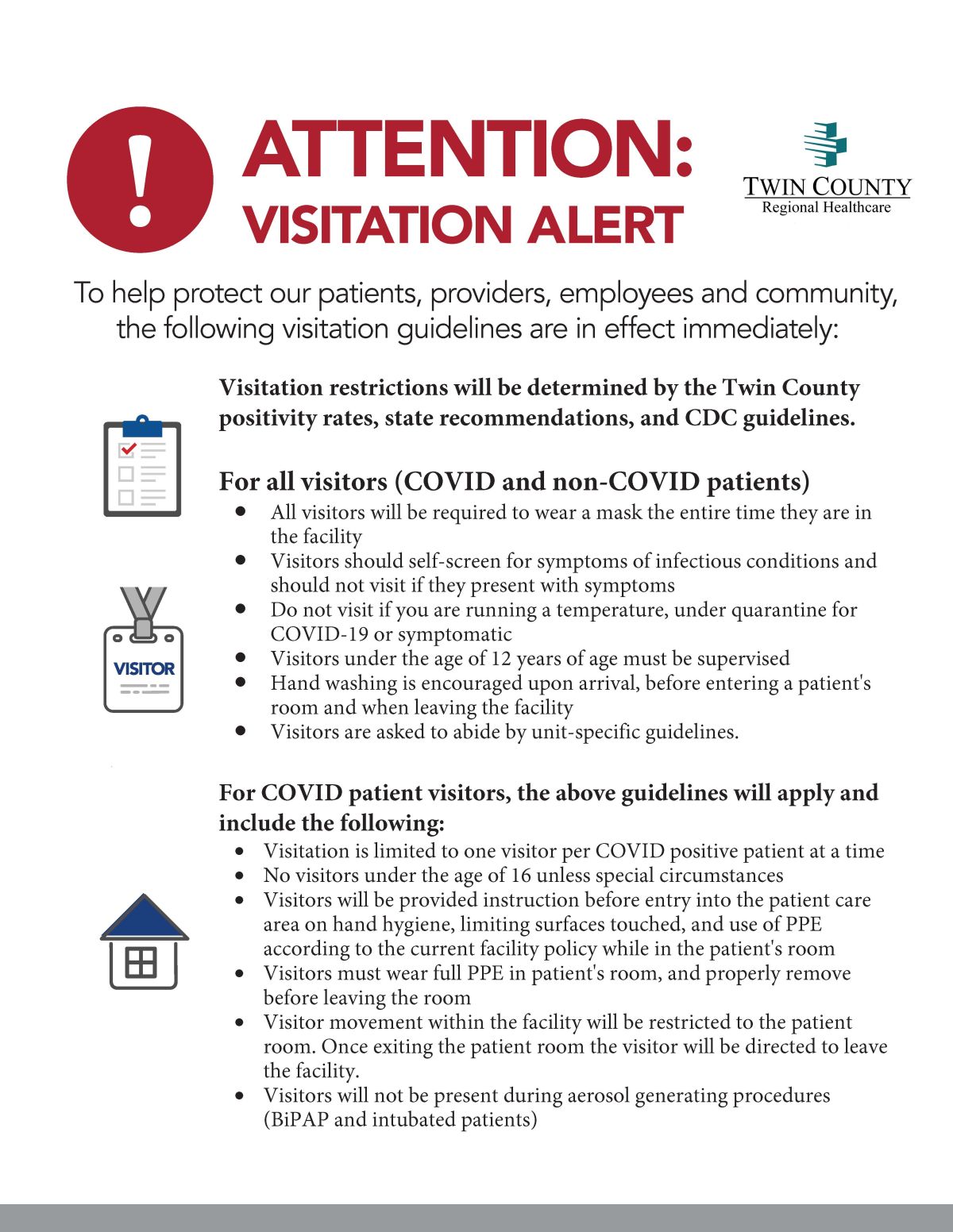 We are continuing to work closely with the Mount Rogers Health District and the Virginia Department of Health (VDH) and following guidance from the Centers for Disease Control and Prevention (CDC) to ensure the safety of our patients, the clinical teams who have been caring for this patient and all those within our facility.
Our hospital is prepared with the appropriate plans to detect, protect and respond. We have been preparing for the potential of COVID-19 in our community building upon the robust emergency operations plan we have in place year-round.
We want to reassure our communities that it is safe to come to the hospital should you or your family need care. We stand ready to serve you. Below are a number of resources to help educate you and your family on COVID-19. For more information on the virus, please contact the Virginia Department of Health.
ACCESS AND ENTRANCE POLICY
Emergency Room entrance only 24/7
Main hospital entrance is closed. All visitors must enter through the outpatient surgery entrance or through the ED entrance after 5pm
EMS will continue to use the dedicated entrance at the ER
Outpatient surgery patients will continue to use the outpatient surgery entrance located to the right of hospital during normal business hours. All others use ED entrance after hours
All staff, vendors, patients and visitors will need to receive required screening to include temperature for entrance approval into the facility
All patients and visitors must meet visitor policy
TCRH COMMUNITY POLICY
The TCRH cafeteria will be closed to general public coming in to have a meal
The TCRH cafeteria will only serve our patients
TCRH classrooms and conference rooms inside the facility will be closed.
COVID-19 Online Risk Assessment
To help support the health of our community, we are providing access to an online COVID-19 risk assessment developed by the Centers for Disease Control and Prevention (CDC). This tool does NOT provide a diagnosis, and it should NOT be used as a substitute for an assessment made by a healthcare provider.
COVID-19 Resources
Additional Resources:
A Message to the Community
Universal Masking
Twin County Regional Healthcare is taking every precaution to keep our patients and staff safe, and prevent the spread of COVID-19 in our facilities. For this reason, we are following the CDC recommendation and Virginia Department of Health and Mt. Rogers Health District that anyone who enters our facility must wear a face mask at all times.
Visitors are encouraged to bring their own mask from home to help conserve hospital supplies for patients and staff.
Why wear a mask? Recent studies show that universal masking, in addition to practicing social distancing and proper hand hygiene, can help prevent the spread of infectious diseases like COVID-19, especially in individuals who may not know they are ill. And until there is a vaccine, these measures are our best line of defense in protecting not only you, but also our healthcare workers and community members.
Please be smart and do your part. Wear a mask! We all have a responsibility to protect one another against the spread of COVID-19 and make our communities healthier.
Learn more information from the CDC on face coverings and how to make your own.
Learn more about the many ways we are working to ensure your safety while you are in our care.